There are numerous ways to use yoga blocks in your asana practice, whether you need to modify a pose to make it more accessible for your body or you want to go deeper into the pose. Unlike some other yoga props like yoga straps and blankets, I find yoga blocks hard to substitute with household items. That's why I always recommend beginners to invest in a pair of yoga blocks when they start their practice. In this post, you will learn 12 ways to use yoga blocks in different yoga poses. Try them out without the blocks and see for yourself if yoga blocks could be useful for you.
*Some links in this post are affiliate links. As an Amazon Associate, I earn from qualifying purchases at no extra cost for you
Yoga blocks are available in different sizes and materials. The most common materials for yoga blocks are foam, cork, and wood.
Foam yoga blocks are soft and light, they are easy to transport if you want to carry them to the studio or gym. Foam yoga blocks are good for beginners because they might be more comfortable in restorative postures, or when you need to rest sensitive parts of the body like the lower back or knees on the block. However, because foam yoga blocks are not very sturdy, some students don't find them supportive enough in poses where you need to lean your weight on the blocks.
Cork yoga blocks are heavier than foam blocks but also nice for beginners. Some people prefer cork yoga blocks because they are harder and provide more stability in standing poses. These blocks are eco-friendly and usually last much longer than foam blocks.
Wooden blocks were the original yoga blocks. You don't see this type of blocks often anymore. Wooden blocks are heavy and hard, they can get slippery if you are sweating, so they are not the best choice for beginners. Some companies make bamboo yoga blocks if you would like to check them out.
Foam and cork yoga blocks are both great for beginners, it depends on your personal preference which type is better for you. You can also get different types of blocks to use for different yoga poses.
I recommend buying yoga blocks in a pack of 2. Sometimes they are also sold as a set with 2 yoga blocks and a yoga strap. With two yoga blocks, you will have more options to use them, especially in symmetrical poses.
When it comes to size and shape, brick-shaped yoga blocks 22 x 12 x 7.5 cm are the most common and the most versatile. You can use a yoga block in 3 settings: lowest, middle and tallest settings.
12 BEST WAYS TO USE YOGA BLOCKS
1. Easy Seated Pose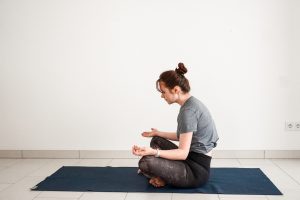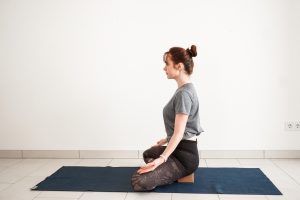 For many people, it's hard to sit on the floor with crossed legs and a straight spine, especially at the beginning of the yoga class, when your body is not warmed up yet. If you have tight hips, your knees will hover high above the ground. To modify this pose, place a yoga block on the floor on the lowest setting, sit on the edge of the block, allow your knees to naturally lower to the floor and lengthen the crown of the head to the ceiling. This way it will be much easier for you to sit in this position for a longer period of time, for example when you are meditating or doing pranayama. Instead of a yoga block, you can also use a blanket to elevate the hips.
2. Seated Forward Fold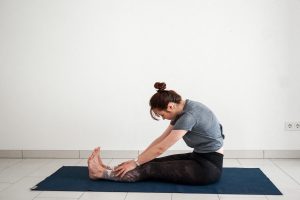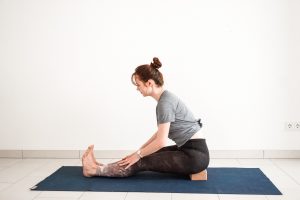 Round the spine and collapsing the chest and shoulders is a common mistake in seated forward fold. If you bend forward this way, you might be able to reach your toes. But if the bend comes from the back and not from the hips, you are not receiving the benefit of this pose (stretching hamstrings). So instead try sitting on a block like in a previous pose. You will notice immediately that it is easier to straighten your spine when you use a yoga block. With inhale lengthen the spine, exhale – draw the navel and ribs in, bend from the hips and fold forward as much as you can. Keep the spine long and try not to round the lower back. This way you will get a nice hamstring stretch without harming your lower back. This pose also works well with a blanket instead of a yoga block.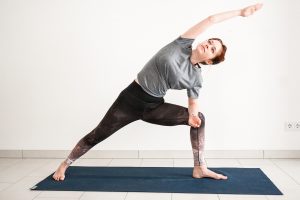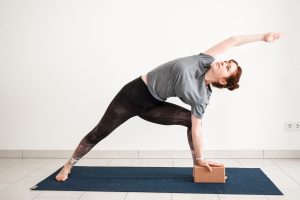 You can do the modification of this pose by placing your forearm on your thigh and extending another arm above your head. If you want to go deeper, but your fingertips don't reach the floor, rest your hand on the block on the inside or outside of your front foot. You can start with the highest setting and then lower it as you progress.
4. Revolved Side Angle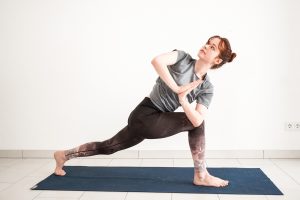 Similar to the previous pose, you can use a yoga block outside your front foot as a shortcut if your fingertips don't reach the floor.
5. Triangle Pose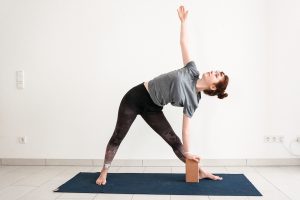 A common mistake in the triangle pose is overextending the front knee trying to grab the big toe or place the hand on the mat. You don't have to reach your toes in this pose to get a good stretch. Place a yoga block on the inside or outside of your front leg for support. Try it with the highest setting first, and then see which height works better for you. If you are new to yoga, you can start with a front knee bent, place one hand on the block, lift the other arm to the sky, and then try to straighten the front leg more so you feel a nice stretch in hamstrings.
30 MORE WAYS TO USE YOGA BLOCKS
6. Revolved Triangle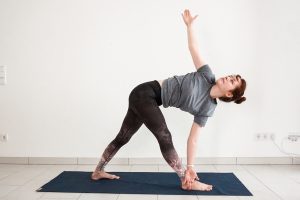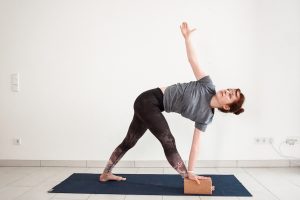 Traditional alignment for the revolved triangle pose is heel to heel, but if you find it hard to find stability and keep your hips facing front in this position, feel free to place your feet a bit wider, as if you are standing on two rails. With inhaling lengthen the spine, as you exhale hinge from the hips, bring your upper body parallel to the floor. If your hand doesn't reach the floor, use a yoga block on the outside your front foot. Inhale and twist from the upper body, keeping the lower body in the same position.
7. Half Moon Pose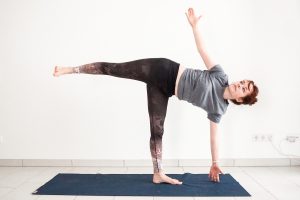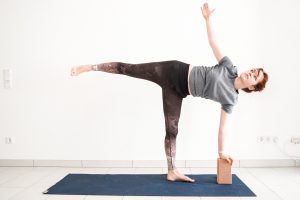 If you find it difficult balancing in this pose, use a yoga block for support. From triangle pose, place your block in line with the front foot. Shift your weight to the front leg, place your hand on the block and slowly lift the back leg. Try to straighten the front leg, back leg is active and parallel to the floor, foot flexed. Lift the back arm to the sky, try to rotate torso to the long side of the mat and if you feel stable, look up to the sky.
8. Bridge pose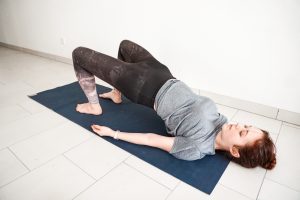 One mistake I often see students do in this pose: when people lift hips up for bridge pose, knees tend to splay open, which compresses the lower back and might cause pain. To do this pose correctly, you need to keep your inner thighs firm and active. To get used to this alignment, place the block with its narrowest width between your inner thighs, squeeze the block lightly and then try to lift up your hips. This way your knees stay in line and you might immediately notice that it feels better for your lower back.
9. Supported bridge pose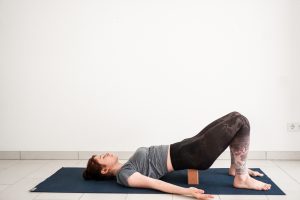 Supported bridge pose is a wonderful restorative pose with lots of benefits, from reducing lower back pain to soothing the nervous system. For this pose, you might need one or two yoga blocks and you have to experiment which height feels better for you. Place the block underneath your sacrum, not underneath your lower back. Relax in this pose for a couple of minutes.
10. Supported Fish Pose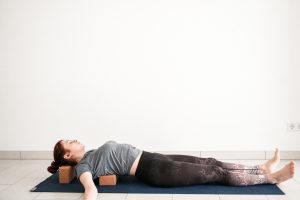 For this gentle chest opener, lay down on your back, place the block directly under your shoulders. If your neck feels ok, you can let your head lay on the mat, otherwise use another block to support the head. If this feels easy, try to place the block on a higher setting. Another option is to use the block with the narrow side between the shoulders. This position feels a bit different, so just see what works better for you.
11. Legs "Up The Wall" Pose In The Middle Of The Room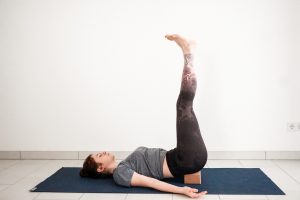 Shoulderstand is a restorative pose that is used at the end of many yoga sequences to wind down. But it's not accessible to everyone. A common alternative in yoga classes is Viparita Karani, legs up the wall pose. But if you are in the middle of the room and you don't want to move your yoga mat all the way to the wall, you can use a block. Place the block under your sacrum, just like in restorative bridge pose. Then straighten the legs towards the ceiling and relax here for a few minutes
12. Reclining Bound Angle Pose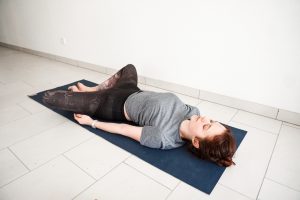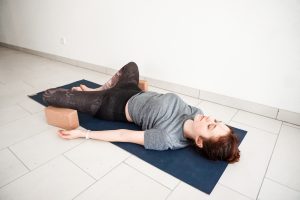 Lie on your back with your arms to your sides and the soles of your feet together. Allow your knees to open to the sides and lower towards the floor. For most people, knees will hover above the ground. Take two yoga blocks and place them under the thighs. The yoga blocks support the knees so the weight of the legs doesn't pull too hard on the inner thighs. This way inner thighs can relax more and let your hips open more.