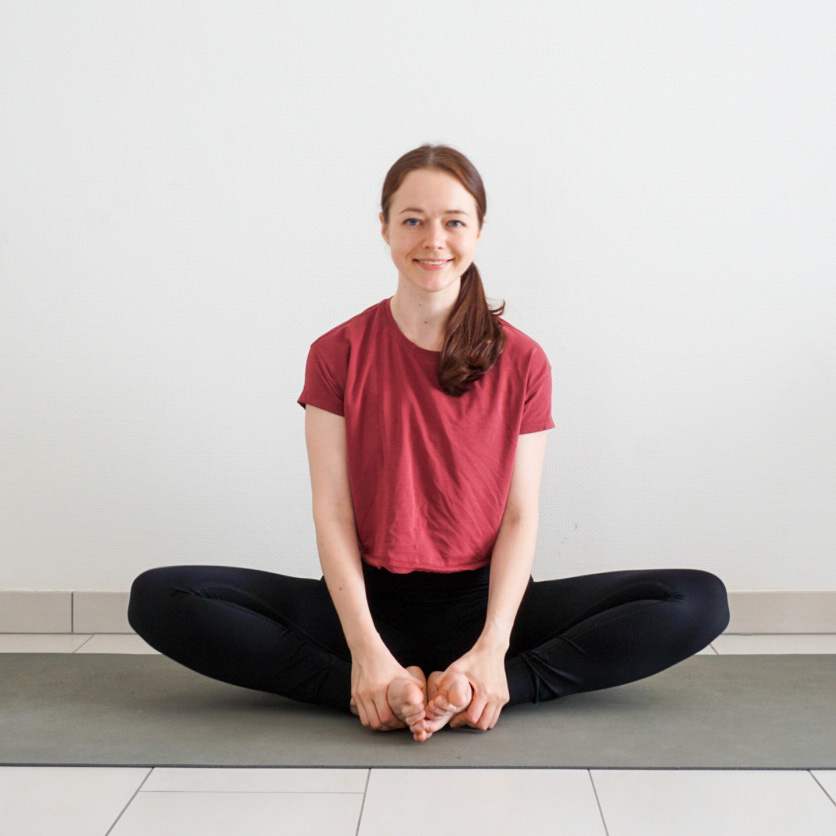 Hello! I'm Uliana, a yoga teacher from Ukraine, now living in Germany. I run a Youtube channel "Yoga with Uliana" and I teach yoga to people all around the world, both online and in-person in Saarbrücken. I found yoga to improve my health and well-being and now I want to share this experience with others.
Growing up, I wasn't particularly strong or flexible. As a teenager, I was diagnosed with scoliosis, and many sports and physical activities became a no-go. I did regular physical therapy for scoliosis for a few years and then stopped exercising until my mid-20s.
As an adult, I understood the importance of physical fitness and tried to start working out. I heard about the benefits of yoga and wanted to try it for a long time, but didn't have easy access to local classes. Luckily, that was the time when yoga became popular on Youtube. One day I just searched for "yoga for beginners" on Youtube and started practicing at home. One of the best decisions in my life :)
Many yoga poses were hard in the beginning. I often struggled to follow along as a beginner and had to pause videos to take breaks. Yet at the end of each practice, I felt better than ever. I finally found the joy of moving my body. Seeing my body become strong and flexible was a great feeling but the inner sense of lightness, calm and peace was my biggest motivation to keep practicing. With yoga, I learned a more sustainable way to deal with stress and anxiety, make conscious choices, and be present in the moment.
This experience led me to become a yoga teacher and share yoga practice with others. I went to India for my first 200 h yoga teacher training in 2019 and began teaching in 2020, right when the Covid pandemic started. In 2022 I finally got a chance to complete advanced 300 h training in India and did an additional Yin yoga training. I keep attending courses and workshops that help me to develop as a yoga teacher.
For most of my journey with yoga, I've been practicing at home, with free and paid resources available online. I believe we are lucky to live in a time when yoga is more accessible than ever. My mission is to contribute to this trend by teaching good-quality, easy-to-follow online yoga classes live and on demand.
Join me on the mat and let's practice together!