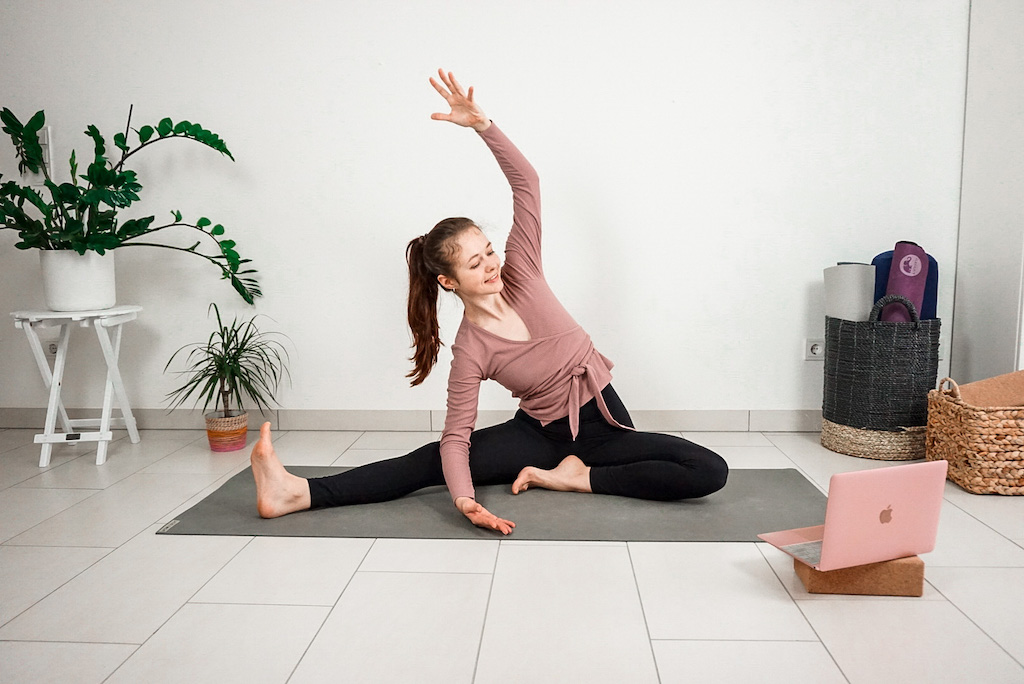 Private Online Yoga Classes
I offer private one-on-one, small group and corporate yoga classes online on Zoom.
My time zone in Germany is GMT+1 (convert to your time zone here). Approximate class schedule – Monday-Friday (7.00-18.00).
One-on-one classes are perfect for beginners, practitioners recovering from an injury, or working toward specific goals.
Small group classes are meant for friends and family members who want to practice yoga together.
Corporate yoga classes are a great addition to the company's employee-wellness program.
Private yoga classes are customized according to your needs and wishes. You can focus only on physical (asana) practice, add breathing exercises and meditation to your sessions, stick to one yoga style for all your classes, or alternate between different styles.
The yoga styles I teach:
– Hatha – a form of yoga in which the balance between body and mind is mainly achieved through physical exercises (asanas), breathing exercises (pranayama) and meditation. It is an umbrella term that describes most modern styles of yoga and is often used to describe basic, slower-paced yoga classes perfect for beginners.
– Vinyasa Flow – a modern yoga style characterized by smooth transitions from one pose to another in the rhythm of the breath. The pace and intensity can vary, but in general, Vinyasa yoga is considered an athletic yoga style best suited for experienced practitioners.
– Yin yoga – a slow-paced and meditative style of yoga that targets deep connective tissues, like fascia, ligaments, joints, and bones. It's a perfect balancing practice for other dynamic styles of yoga.
What do I need to practice yoga online?
All you need to practice yoga online is a space to place your yoga mat where I can see you well and a phone/laptop/tablet with a good internet connection. If you are open to investing into yoga props, I also suggest getting a yoga strap, two yoga blocks, and maybe a bolster or cushions/blankets you have at home.
Do you offer single sessions?
I don't offer single class sessions anymore. From my experience, students benefit the most when they commit to regular practice, that's why I only offer class packages nowadays.
I do provide a free consultation before the classes start so that you can ask me any questions and make sure I'm the right teacher for you.
How much do private online yoga classes cost?
One-on-one 45 min sessions: 10 sessions package – 250 EUR
One-on-one 60 min sessions: 10 sessions package – 350 EUR
The prices for corporate and small group classes are determined by the number of people and can be discussed during an initial consultation.
Payments are accepted through PayPal and Stripe(credit cards).
Ready to try an online yoga class?
Contact me to schedule a free 15 min consultation call through the contact form below. Please share a bit of information about yourself, your previous experience with yoga, your goals, preferable class timings and any questions you have.