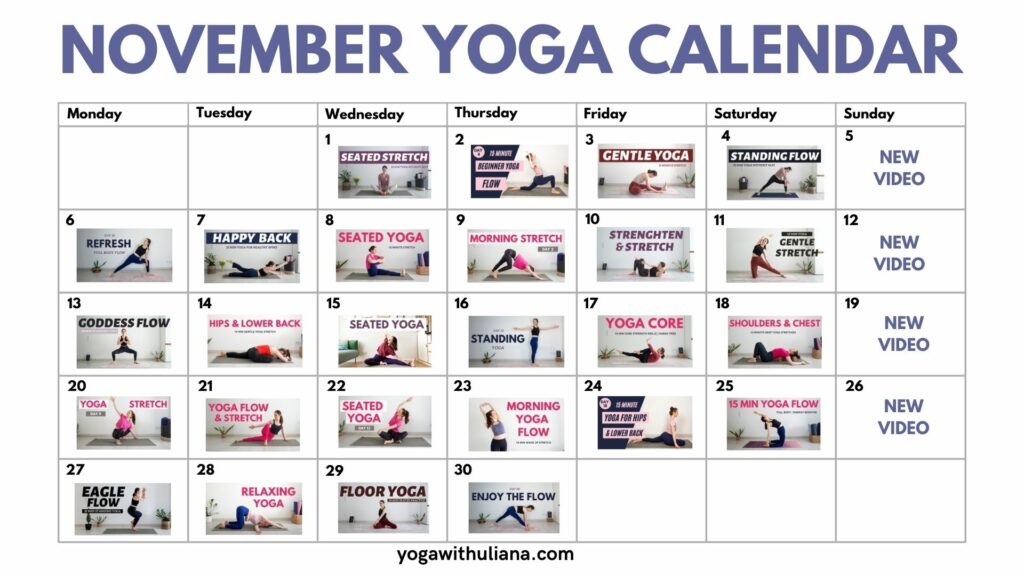 Welcome to the November 2023 Calendar! 
This month we have 4 new yoga videos ranging from 10-15 minutes, perfect for fitting into a busy schedule 🕒 All videos will be published on Sundays at noon German time.
In addition to the new content, this calendar includes selected sessions from some of my earlier yoga challenges, such as the 30 Day Morning Yoga Challenge and the 30 Day Everyday Yoga Challenge. Whether you're a long-time subscriber or new to our community, this is a great opportunity to experience or revisit these practices and decide if one of these challenges is something you'd like to do next.
On another note, December's yoga calendar will be the last one for a little while, and there will be no new challenge in January 2024. Life is bringing some significant changes, which will impact this YouTube channel and my work as a yoga teacher. I promise to keep you all updated and will share more as soon as I can. 🙏
To follow the calendar, you can click on each image to directly access the corresponding video, or use this Youtube playlist to follow along.
Enjoy!