Online Private Yoga Classes on Zoom/Skype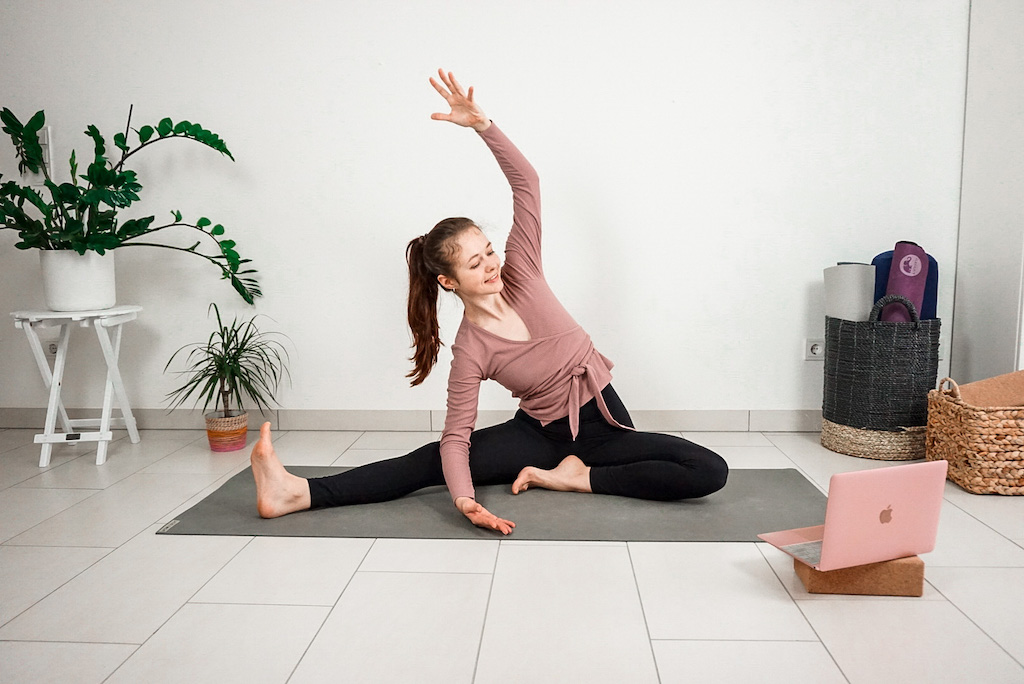 NOTE: I'm not taking new students at the moment.
I offer private yoga classes online on Zoom/Skype from Saarbrücken, Germany (GMT+1).
What are the benefits of online private yoga classes?
Online yoga classes allow you to save time and energy on getting to a studio. You can practice anywhere and anytime you like – at your workplace or at home, take an energizing yoga class right before your working day starts, during lunch break or right after work to relax and unwind.
What are other benefits of private yoga classes?
– For beginners, private sessions are a great way to gain initial experience in yoga, learn the fundamentals of yoga practice, common postures and the ways to modify them, and work towards their goals in a systematic way, whether it's improving strength, flexibility, balance or overall fitness.
– For busy people who never seem to have enough time for themselves and find it hard to commit to practicing on their own, booking private classes helps to stay accountable and develop an exercise routine, a habit of practicing yoga regularly.
– If you had an injury or any health issues that prevent you from attending group yoga classes, working with a teacher one-on-one will help you develop a yoga practice that suits you and your body.
What do I need to practice yoga online?
All you need to practice yoga online is a space to place your yoga mat where I can see you well, maybe a few yoga props (blocks, strap, blanket) and a phone/laptop/tablet with good internet connection.

How often should I do yoga?
This is for you to decide and something we can discuss during the initial consultation to create a schedule that works for you. For most beginners, I recommend practicing yoga 2-4 times a week but it also depends on whether you are doing some other forms of exercise and what your goals are, how much you are ready to practice on your own vs. one-on-one sessions etc. Most of my students choose to take 1-3 private yoga classes a week and supplement it with other types of exercise or practice on their own with my free Youtube yoga videos.
How much do private online yoga classes cost?
45 min sessions:
Single session – 27 EUR
10 sessions package – 250 EUR
60 min sessions:
Single session – 37 EUR
10 sessions package – 350 EUR
Payments accepted through PayPal and Stripe(credit cards)
I'm based in Germany (GMT+1) and my approximate working hours are Monday-Friday (7.00-18.00).
Ready to try an online yoga class?
Contact me for a free 15 min consultation call through the contact form below. We will talk about your previous experience with yoga, your goals, any requests for classes and I will also answer any questions you have.